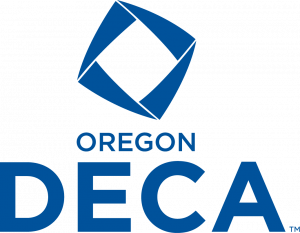 Your 2022-2023 State Officer Team
Oregon DECA Officers are elected by their peers at the State Career Development Conference and represent Oregon's membership. The State Officer team develops a program of work aligned to the strategic goals of DECA. Throughout the year the team interacts with the membership to implement and enhance DECA programs. Oregon DECA State Officers are available to attend your events.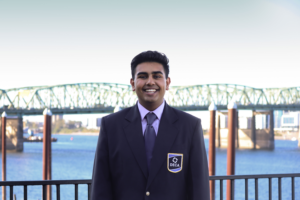 Tanveer Singh
President | Email
Blanchet Catholic School
President - Tanveer Singh
Tanveer Singh, a sophomore from Blanchet Catholic School, is thrilled to serve as Oregon DECA's State President. Tanveer's DECA journey began in middle school when he saw and admired the upperclassmen who competed in DECA. When freshman year came around, Tanveer knew that he wanted in on the many opportunities and business experience that DECA offered. Ever since then, DECA has become an integral part in Tanveer's life that he hopes to be a part of for years to come.
Apart from DECA, Tanveer participates in numerous clubs and activities at Blanchet. He is an avid member of Speech & Debate, CEI, Science Olympiad, and Varsity Tennis. In addition, he serves as a sophomore class representative for the Student Council. In his free time, he appreciates spending time with his family and friends, whether that be watching cheesy movies, cooking food, or spending time outside. Tanveer envisions studying business administration and hopes to start his own business in the future.
He enjoys competing in Restaurant Food Service Management, an event in which he has placed first overall at SCDC and ninth overall at ICDC. Tanveer loves DECA because of the opportunity to meet new people, build connections, and learn real-world skills that will push members to their utmost potential. He plans to help DECA grow so that more people can become a part of the amazing organization that has given him so much. Tanveer is honored to serve as the Oregon DECA State President and is excited for the upcoming year.
Read Bio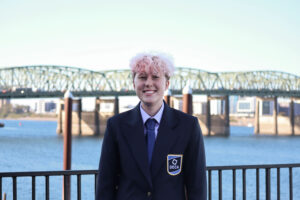 Bell Riley
Vice President of Hospitality | Email
Klamath Union High School
Vice President of Hospitality - Bell Riley
Bell Riley is a member of the Klamath Union DECA Chapter,
in Southern Oregon, and is serving as the Oregon DECA Vice
President for the 2022-2023 term.
Throughout his three years of DECA, he has been a leader in multiple community service projects including Will Love For Food, which collects food and funds for the local animal shelter, and his project to give Free Hot Chocolate to students the week before Thanksgiving Break. He has also learned skills he applies in his education, extracurricular activities, and career.
Lead by his interest in hospitality and economics, Bell has state champion titles in Restaurant and Food Service Management, Hotel and Lodging Management, and Hospitality and Tourism Professional Selling. His love for DECA and the knowledge he has gained with the help of the organization is one of his main motivators as a leader.
As Vice President, Bell aims to continue reviving the DECA spirit by being an advocate and supporter of chapter members across the state.
When not studying or in KU Chapter meetings, Bell serves as the Student Government Secretary, is a member of NHS, and takes writing classes at the local community college. He also loves working as a barista in his high school's School Based Enterprise and watching lots of TV in the downtime.
Read Bio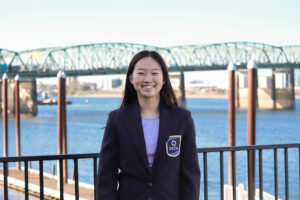 Alicia Li
Vice President of Marketing | Email
Lake Oswego Sr. High School
Vice President of Marketing - Alicia Li
Alicia Li, a rising senior at Lake Oswego High School, is beyond excited to serve as the 2022-2023 Vice President of Marketing.
Other than business, Alicia is also passionate about STEM and education. She serves as the Lake Oswego School District school board student representative, representing over 6,800 students in her district. At school, Alicia is also the Director of Communications of the Green Team and Co-Leader of the Asian American Student Union. Outside of school, Alicia spends much of her free time teaching and competing in taekwondo.
Alicia first discovered DECA in middle school when she was flipping through the high school's curriculum guide. After that, she admired the program from afar until she finally had an opportunity to join DECA her junior year. She had a great time at SCDC and particularly enjoyed the Business Solutions Project, where her team placed first. In addition to the competitive aspect of DECA, Alicia was also impressed by how the program provides a positive environment for students to make new friends, network, and gain real-world experiences. As the Vice President of Marketing, she looks forward to sharing the incredible experiences DECA has to offer with others in Oregon.
Read Bio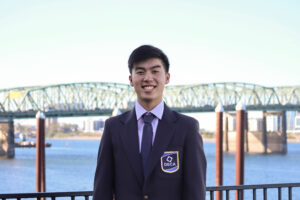 Andrew Huang
Vice President of Career Development | Email
Lake Oswego Sr. High School
Vice President of Career Development - Andrew Huang
Andrew Huang is a junior at Lake Oswego High School and is serving as the Oregon DECA Vice President of Career Development.
Outside of DECA, Andrew enjoys playing basketball and acting. He serves as the Vice President of the Drama Club, a Co-Leader of the Asian American Student Union, and the Marketing Director of the Backpack Club, a non-profit focused on feeding kids facing food insecurity. In his free time, Andrew can most likely be found at rehearsal for whichever show his school is producing.
With his junior year being his first time participating in DECA, Andrew especially enjoyed the Business Solutions project, which his team placed first in at SCDC. He has found a love for DECA through working with his teammates, fellow chapter members, and meeting new people at the state conference. With the entire community coming back from COVID, Andrew hopes to reignite the spark in the DECA spirit while he serves as a Vice President.
Read Bio