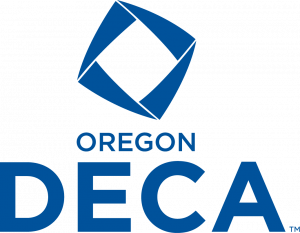 Your 2023-2024 State Officer Team
Oregon DECA Officers are elected by their peers at the State Career Development Conference and represent Oregon's membership. The State Officer team develops a program of work aligned to the strategic goals of DECA. Throughout the year the team interacts with the membership to implement and enhance DECA programs. Oregon DECA State Officers are available to attend your events.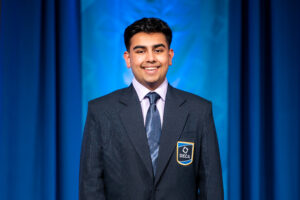 Tanveer Singh
President | Email
Blanchet Catholic School
President - Tanveer Singh
Tanveer, a junior from Blanchet Catholic School, is thrilled to serve as Oregon DECA's State President. Tanveer's DECA journey began in middle school when he saw and admired the upperclassmen who competed in DECA. When freshman year cam around, Tanveer knew that he wanted in on the many opportunities and business experiences that DECA offered. Ever since then, DECA has become an integral part in Tanveer's life.
Apart from DECA, his curiosity and knack for challenge finds him participating in numerous clubs and activities at Blanchet, such as Speech & Debate, CEI, Science Olympiad, Student Council, and Varsity Tennis. Tanveer is equally as passionate about giving back to his community, whether through serving is local Gurdwara or building his mental health organization, The Open Minded Project. During his free time, Tanveer appreciates spending time with his family and friends, whether that be watching cheesy movies, cooking food, or spending time outside.
He enjoys competing in Restaurant Food Service Management, an event in which he has placed first overall at SCDC and third overall at ICDC. Tanveer loves DECA because of the opportunity to meet new people, build connections, and learn real-world skills that will push members to their utmost potential. He plans to help cultivate Oregon DECA and provide more opportunities for members to excel both in competition and career opportunity. Tanveer is beyond honored to serve as the Oregon DECA State President and is excited for the upcoming year. 
Read Bio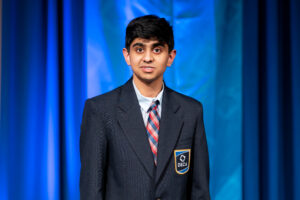 Ananth Namboothiry
Vice President of Leadership| Email
Westview High School School
Vice President of Leadership - Ananth Namboothiry
Ananth Namboothiry, a sophomore at Westview High School, is excited to serve as the Vice President of Leadership for Oregon DECA. After initially hearing about DECA from his older brother, Ananth joined his school's chapter as a freshman. His welcoming experience through his two years as a member is what has kept him invested. The coming season will be Ananth's 2nd and 3rd year as a DECA member, having qualified for ICDC in 2022 for FTDM and triple qualifying for ICDC in Florida this year.
In addition to participating in DECA, Ananth runs a non-profit organization called PDX concierge, which aims to distribute resources to the food insecure and elderly. Beyond community work, Ananth is an avid member of his school's speech and debate team (as both a competitor and a mentor), the model United Nations club (MUN), and the varsity racquetball team. Aside from these, Ananth enjoys music and loves to perform in concert with his saxophone, flute, and piano while collaborating with other artists in fusion bands. Besides extracurriculars, you can probably catch Ananth doing the New York Times mini crossword or hanging out with friends!
DECA has been eye-opening for Ananth, showing him an experience allowing him to make new friends, learn business and leadership principles, and ultimately win glass! In his role as VP of Leadership, Ananth's goal this year is to bring this DECA dream experience to all Oregon DECA members.
Read Bio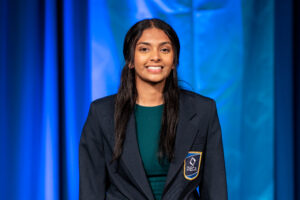 Manika Nunna
Vice President of Finance | Email
Westview High School
Vice President of Finance - Manika Nunna
Manika Nunna, a junior at Westview High School, is thrilled to be serving as the 2023-2024 Oregon DECA Vice President of Finance. Manika became fascinated with DECA from a young age after watching her brother
travel the world through DECA. Since then, she yearned to create her own DECA memories. Her experience taking business classes in high school continued to further her career knowledge and develop appreciation for the different aspects of the business field. Her time spent in DECA has grown to be an experience more meaningful than anything she could have ever imagined.
Financial Consulting is Manika's favorite event, as it combines skills needed for a career in sales and consulting which is what she hopes to pursue in the future. She has loved participating in the new scenarios pertaining to the event created every year.
Aside from DECA, Manika is an avid athlete and is a part of both the basketball and golf teams at her school. Throughout her childhood, sports were a large part of her upbringing and helps her improve her mental and physical health while simultaneously building social connections within her school and community. She is also involved in HOSA, NHS, and finds time to volunteer at a local hospital. In her free time Manika enjoys reading, traveling, and spending time with friends and family.
Read Bio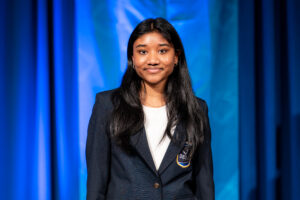 Nilani Maheswaran
Vice President of Hospitality | Email
Westview High School
Vice President of Hospitality - Nilani Maheswaran
Nilani Maheswaran is a sophomore from Westview High School and is excited to serve as Oregon DECA's 2023-2024 Vice President of Hospitality. Throughout her two years of DECA,  Nilani has enjoyed learning real-life skills through competitive events and connecting with peers of similar interests in business and entrepreneurship. DECA has taught her a multitude of important lessons and shaped her future career aspirations significantly. With her passion for marketing and management, Nilani holds state champion titles in Principles of Business Management, Business Services Marketing, and Hospitality and Tourism Professional Selling. She was also a Top-20 finalist at ICDC in 2022. 
Her love for DECA and the unique educational and social experience she has gained from her time as a member motivates her to give back to the DECA community. As Vice President of Hospitality, Nilani aims to ensure that every member across the state feels welcomed and can realize their highest potential as part of DECA.
Outside of DECA, Nilani serves on the Beaverton Mayor's Youth Advisory Board, is the Co-President of her school's Climate Change Club, and competes on the debate team. She also enjoys playing the piano, performing Indian classical dance, or getting boba with friends in her free time. Nilani is so grateful to be appointed as an Oregon DECA Vice President and looks forward to the wonderful year ahead!
Read Bio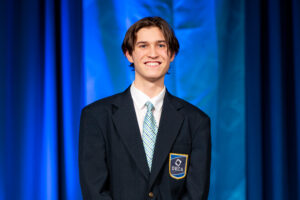 Owen Gifford
Vice President of Career Development | Email
Westview High School
Vice President of Career Development - Owen Gifford
Owen Gifford is a Westview High School junior serving as the Oregon DECA Vice President of Career Development. 
DECA has quickly become a central aspect of Owen's life. His growth from an intimidated freshman who merely heard about DECA to becoming the state officer that he is today is astounding. This year, in his role as Vice President of Career Development, it is Owen's goal to make a meaningful connection with each and every DECA member and chapter; to strive to figure out what makes each chapter unique. Owen doesn't just believe that DECA is about winning or losing, but instead about encouraging and supporting the personal growth of each and every member. 
When he is not writing international business plans, Owen has a few more activities that he partakes in. From the age of five, soccer has been Owen's first love. Since then, he's grown to play on his High School's unified sports team where he looks to help and lead Special Education children as they learn sports. He has also newly joined Track and Field. Alongside sports, Owen volunteers in his local community. He works to make cyber security knowledge more accessible for all people by hosting free classes on the risks of the internet and online protection. For the past few years, Owen has been continually studying Japanese culture and language and has qualified and competed in the national Japan bowl. In the future Owen wishes to visit Japan and potentially start a business there. 
Owen's favorite DECA event is the International Business Plan, valuing the amount of research and thought that goes into each project. Looking forward to DECA's future, transparency and chapter connection are Owen's main goals. If you get a chance to see him, make sure to say hello!
Read Bio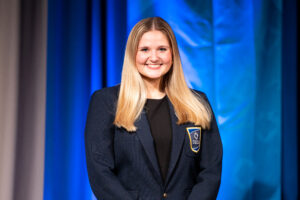 Laurissa Larimer
Vice President of Marketing | Email
Westview High School
Vice President of Marketing - Laurissa Larimer
Laurissa Larimer is a junior at Westview High School and the 2023-2024 Vice President of Marketing for Oregon DECA.
From a very early age, Laurissa knew she wanted to join DECA. She is the youngest in her family and watched all 4 of her siblings participate in DECA. When she joined her freshman year, she didn't expect to become absolutely enamored with the unique blend of professional growth, skill development, and meaningful collaboration (the fun trips and sparkly trophies certainly didn't hurt). Laurissa has had the opportunity to compete at SCDC and ICDC every year of her high school experience, and she loves every minute of it! Laurissa has participated in events from every career cluster. She's discovered that she is particularly fond of events that require quick thinking and creativity, which contributes to her favorite event being PSE, where she placed first at SCDC.
Laurissa is constantly finding (or creating) opportunities for her to give back and grow her love for humanity. She works as co-president for a non-profit, where she teaches introductory level python courses to upper-elementary students. Her volunteer work can also look like muddy shoes, rolled up sleeping bags, and sunburnt arms; Laurissa serves within her church as a camp counselor and youth camp leader. Additionally, Laurissa is a youth advocate for Mothers Legacy Project, a non-profit that advocates for decreasing global maternal mortality rates. Her work with Mothers Legacy Project took her all the way to Midtown Manhattan, NY; the United Nations headquarters. There, she attended a conference—Commission on the Status of Women—and worked with other NGOs to advocate for women's issues across the world.
Read Bio